You are here:
Home
:
NHLU 5 2005
: Bertrand Coiffier, MD, PhD
| | |
| --- | --- |
| | |
CD 2 — Tracks 6-17
Track 6
Evolving role of monoclonal antibodies in B-cell lymphomas
Track 7
Potential mechanisms of action of rituximab with or without chemotherapy
Track 8
Use of PET scan to identify patients at high risk after treatment with R-CHOP
Track 9
ACVBP regimen: Dose-dense,
dose-intense CHOP followed
by short, second consolidation
therapy
Track 10
Use of dose-dense R-CHOP-14
versus standard R-CHOP-21
Track 11
Selection of filgrastim versus
pegfilgrastim in patients
receiving R-CHOP

Track 12
Clinical management of mantlecell lymphoma
Track 13
Use of R-CHOP and maintenance
rituximab for patients with
follicular lymphoma
Track 14
European versus United States
schedule and duration for maintenance rituximab
Track 15
Value to patients of extending
duration of remission with maintenance rituximab
Track 16
Rituximab monotherapy followed
by maintenance therapy in
patients with low tumor burden
follicular lymphoma
Track 17
ECOG-E4402 RESORT trial:
Rituximab in patients with low
tumor burden indolent NHL
Select Excerpts from the Interview*

CD 2, Track 9

DR LOVE:

What's your usual approach to initial treatment of aggressive lymphoma in younger patients?

DR COIFFIER: Currently, for a young patient with aggressive lymphoma, we don't use R-CHOP, we use a more advanced chemotherapy called ACVBP.
The ACVBP regimen is complicated (3.1). That's one of the reasons it's not really utilized in the United States. The regimen has two parts: One part consists of dose-dense, dose-intense CHOP, using higher doses of cyclophosphamide and doxorubicin given every two weeks for three or four cycles according to the treatment setting. This is followed by sequential consolidation chemotherapy, which consists of several agents — first methotrexate, then ifosfamide, etoposide and cytarabine — every two weeks for four months. The total length of treatment is six months.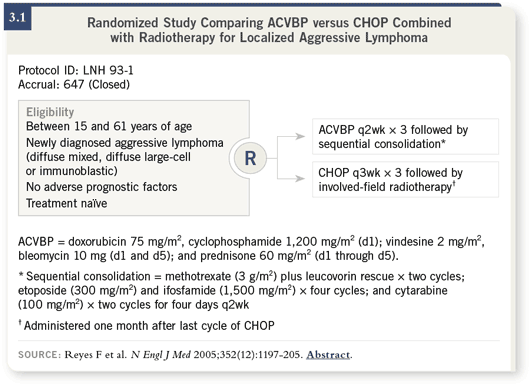 DR LOVE: Would you review the study of ACVBP versus CHOP that was recently published in The New England Journal of Medicine?

DR COIFFIER: That study included patients with localized lymphoma, but there are other studies of ACVBP in different patient populations.
The objective of our study was to demonstrate whether dose-intense chemotherapy was better than the standard three-weekly CHOP followed by radiation therapy. Patients in one arm received three cycles of CHOP followed by involved-field radiation therapy. In the other arm, patients received ACVBP and sequential consolidation chemotherapy without radiation therapy.
ACVBP with sequential consolidation chemotherapy was better than CHOP with radiation therapy in the intent-to-treat population (3.2). If you look at the data for patients without a large tumor mass, ACVBP was also better. We have previously published similar findings in Blood (Tilly 2003), in which we evaluated Stage III and IV patients and compared ACVBP to eight cycles of CHOP.
The study was initiated before the availability of rituximab. At the time, ACVBP was better than eight cycles of CHOP. We now know that R-CHOP is much better than CHOP, so the question is, Is R-ACVBP the same or better than R-CHOP? We are currently investigating this question, but we do not have the results.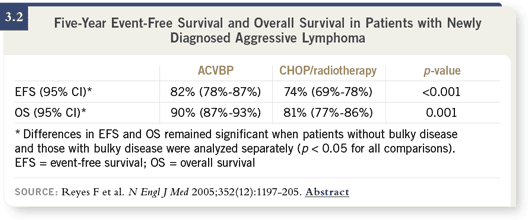 CD 2, Track 13

DR LOVE:

How do you approach patients with follicular lymphoma?

DR COIFFIER: I first evaluate the criteria for requiring treatment. I use criteria that are nearly the same everywhere for high tumor burden. If the patient does not have any of those criteria, I do nothing (watch and wait). If the patient has one criterion, he or she needs to be treated. In that case, I usually propose R-CHOP. I think there's some benefit in adding doxorubicin. If you compare the different studies, I think R-CHOP was better than R-CVP, and the duration of the response is better. So I prefer to use R-CHOP in patients up to 70 years of age. After that, R-CVP may be good treatment. If the patient shows a good response, but not a complete response — that is, persisting low involvement in any case — I do maintenance therapy with rituximab.
* Conducted on May 16, 2005