You are here:
Home
:
NHLU 3 2005
: John P Leonard, MD
John P Leonard, MD
EDITED COMMENTS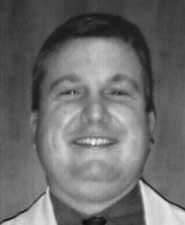 Nonprotocol approach to patients with follicular lymphoma
I see this as a chronic disease. The goal is to keep it quiescent for as long as possible while maintaining quality of life and hopefully improving survival. When I see a new patient, I conduct an assessment with the usual staging methods.
Unless the patient is sick, I do nothing for three or four months to develop a sense of the pace of the disease. This allows me to determine if "watch and wait" is a possibility. If the disease progresses, I may say, "Let's just cut to the chase and start treatment."
I find that some patients and physicians are minimalists, wanting to hold off on treatment and use less intensive treatments. Rituximab alone, for example, is a godsend to those patients because they want to avoid chemotherapy. Other patients are much more proactive and want to use intensive treatments because they want to go into remission and, at least psychologically, have the disease under control.
In my practice, if a patient needs treatment, I use either single-agent rituximab or, if I am using chemotherapy, in most situations it's chemotherapy plus rituximab. I use single-agent rituximab for relatively few patients because most of my patients prefer to be observed initially, and they receive chemotherapy plus rituximab when they clearly require treatment. However, in some situations I'll use rituximab alone, and in other patients I may use chlorambucil.
Rituximab maintenance in patients with indolent lymphomas
ECOG-E4402 (the RESORT trial) treats patients who by definition are less sick and have less tumor burden with up-front rituximab alone. The trial will evaluate whether patients treated with induction rituximab do better with maintenance rituximab than with re-treatment with rituximab at the time of disease progression (1.1).
The RESORT trial uses maintenance rituximab until disease progression, instead of for two years. It's hard to say which strategy is best because without the data, we don't know the answer in this setting. We need studies to determine: (1) if there are long-term toxicities associated with indefinite maintenance, which we haven't yet seen with two years of maintenance, and (2) if benefits exist for patients with long-term therapy.
In a patient receiving rituximab monotherapy or rituximab plus chemotherapy for indolent lymphoma, I base my decision about the use of maintenance rituximab on what I expect the patient's disease to do following initial treatment. If I'm expecting the patient to have a long remission with the induction regimen — based on their past history, the extent of the disease and how they did with their last regimen — I would probably not be as aggressive about using maintenance rituximab. On the other hand, in someone with a relatively short remission, I would be more prone to use maintenance rituximab to try to extend it, because I'd be worried that the induction regimen may not do the job.
Limited data exist in this regard and most of the time in my practice, this is determined by the patients. Some patients like to be on therapy. Being proactive makes them feel good. Others say, "I'd rather not see you if I can go another year without treatment. I don't like the reminder of having to come back to be treated." There's room for different practice styles and patients' perspectives.
Studies in patients receiving rituximab alone (Hainsworth 2005) or chemotherapy alone (Hochster 2004) followed by maintenance rituximab clearly suggest that maintenance rituximab extends progression-free survival. The question is, do patients who receive chemotherapy and rituximab together as induction benefit from maintenance rituximab? That relatively common scenario is also currently being studied.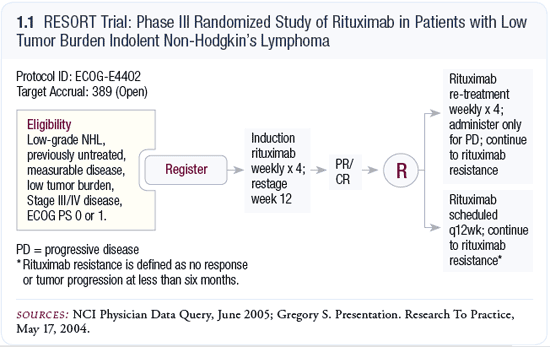 CALGB trials of rituximab in combination with other biologic agents
The CALGB is evaluating a variety of biologic agents in combination with rituximab. For patients who need intensive treatment because they're sick, the chemotherapy plus rituximab regimens can be very useful. However, many patients who need treatment aren't that sick, and rituximab is useful. Can we add other biologic agents to enhance its activity?
To avoid chemotherapy altogether, we're pursuing the use of immunomodulatory drugs to enhance rituximab's activity without the toxicity associated with chemotherapy. Preclinical data suggest that lenalidomide, a derivative of thalidomide, may enhance a variety of immune functions that could augment the activity of rituximab. The CALGB is planning a randomized Phase II trial in patients with relapsed follicular lymphomas comparing the combination of rituximab and lenalidomide to rituximab alone.
The CALGB is also planning a single-arm, up-front trial of rituximab plus galiximab, an anti-CD80 monoclonal antibody. Dr Myron Czuczman has data from a Phase I trial with single-agent galiximab published in the Journal of Clinical Oncology (Czuczman 2003). In addition, I'm presenting our initial data of rituximab plus galiximab at the Ninth International Conference on Malignant Lymphoma in Lugano, Switzerland (Leonard 2005). I believe the approach of antibody cocktails for patients who don't need chemotherapy is both promising and appealing to patients.
Lenalidomide (Revlimid®)
Many are familiar with lenalidomide from Dr Alan List's work in patients with myelodysplasia (List 2005). This agent is also being studied in patients with multiple myeloma, where it has activity. Lenalidomide was developed as a second-generation thalidomide to minimize toxicity and enhance efficacy. It has immunomodulatory effects, and in preclinical models it enhances the activity of rituximab. It's probably related to natural killer cells and enhancement of antibody-dependent, cell-mediated cytotoxicity. The main side effects associated with lenalidomide are cytopenias, which have been seen in the studies in patients with myeloma or myelodysplasia. In patients with lymphomas, the clinical trials are just starting.
Galiximab (IDEC-114)
Galiximab is an antibody against CD80, originally developed as a therapy for psoriasis. CD80 is a costimulatory molecule expressed on a variety of cells, including B-cell lymphomas. It may be another target that could be used in conjunction with CD20, rituximab's target. Preclinical studies have suggested that galiximab can bind to lymphoma tumor cells. In addition, preclinical mouse models suggest galiximab can also enhance the activity of rituximab.
The Phase I study, which will be published soon, found that four weekly doses of galiximab had some clinical activity across a wide variety of dose levels in patients with follicular lymphomas (Czuczman 2003). Clinical responses were seen, which took some time to develop. In some cases it took six months to a year, suggesting there might be some secondary immune effect. The agent was well tolerated with minimal side effects (mainly infusion reactions) that appear to be limited compared to rituximab. Our next step with galiximab was to combine it with rituximab. We will report that the combination is well tolerated and has clinical activity in patients with follicular lymphomas (Leonard 2005).
Recent clinical trials in mantle-cell lymphoma
Mantle-cell lymphoma is a disease of older patients. One of the challenges is that many patients are not great candidates for more intensive regimens. Much of the work that has been done is trying to dose-intensify treatment. Traditionally, CHOP, CVP or some purine-analog regimen has been used for patients with mantle-cell lymphomas. Autologous transplants have been done in first remission in a variety of studies, with some suggestions of improved outcomes. However, randomized trial data have not been available until recently.
At ASCO 2004, Dr Hiddemann presented a complicated study comparing CHOP to R-CHOP and evaluating the role of autologous transplant. It appears that R-CHOP is better than CHOP to a modest degree, with improvements in response rates and time to progression (Hiddemann 2004). I think if you're going to use a CHOP-based regimen, it's important and useful to incorporate rituximab as part of the regimen. But I think the long-term outcomes with R-CHOP are quite limited, and we need to do more.
At ASH 2004, Dr Martin Dreyling presented data from a trial evaluating patients receiving R-CHOP or CHOP as induction therapy who were randomly assigned to a less intensive maintenance (eg, interferon) or autologous stem cell transplant (ASCT) at first remission. The preliminary results from this study suggest that patients stay in remission longer when treated with ASCT. However, thus far we have not seen an overall survival benefit (Dreyling 2004).
Another approach, popularized by the MD Anderson group, uses the rituximab plus the hyper-CVAD combination. At ASH 2004, Dr Jorge Romaguera presented some of their data in close to 100 patients treated with a regimen of rituximab plus hyper-CVAD. Those data show multiyear progression-free and overall survivals for patients treated with rituximab plus hyper-CVAD (Romaguera 2004).
Clinical approach to patients with mantle-cell lymphoma
A regimen of rituximab plus CHOP may be appropriate in more elderly patients with an impaired performance status. In some cases, you can even use rituximab plus CVP. Most of the time in younger patients or patients with a better performance status, we're looking at a more intensive approach. In my mind, the approaches with the best activity, albeit in selected patients, are either rituximab plus CHOP followed by an autologous transplant or rituximab plus hyper-CVAD. Since we don't have randomized trials comparing them, the treatment is determined by what's more tolerable to the patient.
Dr Leonard is the Clinical Director at the Center for Lymphoma and Myeloma and Associate Professor of Medicine at Weill Medical College of Cornell University, New York Presbyterian Hospital, New York, New York.