You are here:
Home
:
NHLU 3 2005
: Andrew D Zelenetz, MD, PhD
Andrew D Zelenetz, MD, PhD
EDITED COMMENTS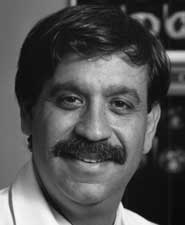 Clinical algorithm for patients with follicular lymphoma
In a young patient with a low bulk of disease and a low-risk Follicular Lymphoma International Prognostic Index (FLIPI) score, I might recommend observation, although many young patients are uncomfortable with that concept.
In a patient we want to treat — maybe because of a high FLIPI score or progression of disease — the decision comes down to age, stage, extent of disease and nature of the symptoms.
For example, we would treat a patient presenting with a 12-centimeter mesenteric mass who is anorexic and losing weight with combination chemotherapy — probably CHOP — and rituximab for a more rapid response, rather than a milder treatment. If that same patient were 68 years old with cardiac issues, we might try a less toxic regimen like FND.
I would not recommend FND for a younger patient because it prevents the collection of peripheral blood progenitor cells for autologous stem cell transplant — which I believe should be included in the list of treatment options for younger patients. Although we may not cure the patient, there is no question that autologous stem cell transplant can provide long-term remissions.
Histological grade versus FLIPI to identify patients at high risk
I'm not interested in the grade of the disease when considering how to treat a patient. We published data at ASH in 2004 that suggest grade has no impact on outcome (Halass 2004; [3.1]).
The most important factor, which has an enormous impact on outcome, is the FLIPI. This is the most predictive tool we have for outcome in patients with follicular lymphoma. The median survival for patients at low risk, according to the FLIPI score, is 16 years, whereas patients at high risk have a median survival of five years.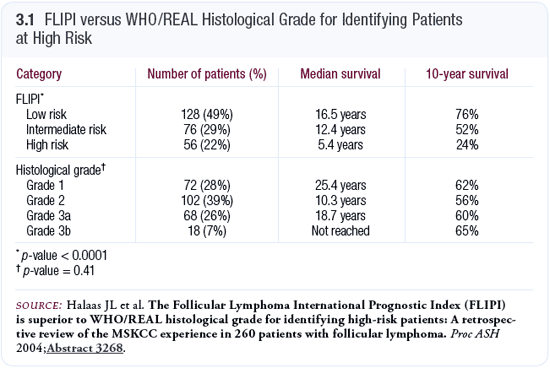 Clinical trials of radioimmunotherapy
The Phase II study of CHOP followed by tositumomab/iodine I-131 tositumomab (Bexxar®) in previously untreated patients with follicular lymphoma served as a pilot for the current Phase III trial (Press 2003). In the Phase II trial, the complete response rate increased from 39 to 66 percent after radioimmunotherapy was added.
The shape of the curves to date in this trial looks unlike that of other historical curves generated by SWOG — at three years of median follow-up, the curve is still up around 80 percent. While this is not a substitute for a randomized trial, and the Phase III trial is ongoing, it is an intriguing result.
In 2003, I reported on a study in untreated mantle-cell lymphoma in which patients received Bexxar as initial treatment followed by CHOP, a reverse of the Press regimen (Zelenetz 2003). We also saw impressive, high response rates of approximately 75 percent, with approximately 40 percent of patients experiencing a complete response following treatment.
Whether it's better to give radioimmunotherapy followed by chemotherapy or the reverse will have to be determined by prospective trials.
The Kaminski data are also quite interesting (Kaminski 2005). In this trial, 76 patients with previously untreated Stage III or IV follicular lymphoma at a single center received Bexxar as initial therapy. It was an unusual patient population in that the median age of the patients was 49 years.
The article did not categorize the patients by risk; however, it did suggest in a multivariate analysis that total tumor bulk of maximal node diameter greater than 5 cm was associated with less of a response and a shorter duration of remission. I find the data quite intriguing — it's a simple treatment, and the majority of patients remain disease free for a prolonged period of time. It's clearly an approach that warrants further study, but it requires a carefully controlled randomized study. At this time, I don't believe patients should receive radioimmunotherapy as their first treatment outside of a clinical trial.
Use of radioimmunotherapy in a nonprotocol setting
I use radioimmunotherapy in patients with rituximab-refractory disease and in patients who have relatively chemo-refractory disease. I try not to use radioimmunotherapy in fourth, fifth or sixth relapse; rather, I use it second, third or fourth line because that's where we've seen much higher proportions of longterm durability. With both agents, 20 to 25 percent of treated patients experience durable long-term remissions — and approximately 20 percent are still in remission at five years.
I'm a big believer in radioimmunotherapy, and I assisted in the development of Bexxar. We have done a number of studies of Bexxar and ibritumomab tiuxetan (Zevalin®) and have been conducting such trials for almost 10 years now. These are highly active drugs — the most active drugs we have for the treatment of indolent lymphoma — but unfortunately, they are not used in the community for a variety of reasons.
In private practice, the oncologist may not know the nuclear medicine physician, and the nuclear medicine physician may not be interested in therapeutic approaches. In some areas of the country, nuclear medicine physicians are so uninterested that radioimmunotherapy is handled by radiation oncologists.
Dr Zelenetz is Chief of Lymphoma Service at Memorial Sloan-Kettering Cancer Center in New York, New York.