You are here:
Home
:
NHLU 1 2007
: David G Maloney, MD, PhD

Tracks 1-20
| | |
| --- | --- |
| Track 1 | Clinical treatment strategy for advanced stage follicular lymphoma |
| Track 2 | Benefit of adding rituximab to chemotherapy for patients with follicular lymphoma |
| Track 3 | "Watch and wait" versus treatment for patients with follicular lymphoma |
| Track 4 | Use of immune response signatures as an indicator of prognosis |
| Track 5 | ECOG-E4402: Rituximab Extended Schedule Or Re- Treatment (RESORT) trial |
| Track 6 | Clinical utility of single-agent rituximab for patients with follicular lymphoma |
| Track 7 | SWOG-S0016: CHOP with either rituximab or Bexxar in follicular lymphoma |
| Track 8 | Clinical use of maintenance rituximab for follicular lymphoma |
| Track 9 | PRIMA study: Maintenance rituximab after response to R-chemotherapy in advanced follicular lymphoma |

| | |
| --- | --- |
| Track 10 | Rituximab maintenance with front-line chemotherapy |
| Track 11 | Side effects associated with maintenance rituximab |
| Track 12 | Autologous stem cell transplant for patients with relapsed follicular lymphoma |
| Track 13 | Diagnosing transformation from indolent to aggressive lymphoma |
| Track 14 | Allogeneic stem cell transplantation for follicular lymphoma |
| Track 15 | Treatment strategies for mantle-cell lymphoma |
| Track 16 | Allogeneic stem cell transplantation for mantle-cell lymphoma |
| Track 17 | R-CHOP as induction therapy for DLBCL |
| Track 18 | Clinical trial of dose-adjusted EPOCH-R |
| Track 19 | Role of PET scans in patients with DLBCL |
| Track 20 | ASCO 2007: Non-Hodgkin's lymphoma highlights |
Select Excerpts from the Interview

Track 1

DR LOVE: Can you talk about your approach to treating advanced-stage follicular lymphoma?

DR MALONEY: My initial approach is to determine whether a patient needs to be treated or not. I'm still an advocate of watching and waiting, or benign neglect, depending on what people call initial observation. I will observe patients unless they have symptoms of their disease or classic criteria requiring therapy. If they have high-volume disease, symptoms or low hemoglobin or blood counts, I'll certainly recommend therapy.
My sense is that an average doctor in the United States is more inclined to treat patients than to observe them, but no study has ever shown an advantage to treating people before they acquire symptoms. You can always argue "foul" because rituximab wasn't available during the early studies of initial therapy versus the watch-and-wait approach. That's one of the top questions I receive about lymphoma therapy: Is there still a role for watching patients with follicular lymphoma?
Studies are now showing clear-cut survival advantages — especially among the patients at higher risk — to the use of rituximab with chemotherapy. We are also starting to see this, at least in the relapse setting, with maintenance use of rituximab following induction with rituximab and chemotherapy.

Track 5

DR LOVE: Can you describe a typical patient who would be observed with a watch-and wait approach?

DR MALONEY: The typical watch-and-wait candidate would be in his or her midsixties with involved lymph nodes, which might have been evident for a while and someone finally made a diagnosis. These patients feel fine, and they have absolutely no symptoms. They might have a palpable abnormality that was evaluated using a CAT scan, and then someone orders a biopsy. The disease is staged, usually with a bone marrow biopsy and CAT scans.
If they have particularly low-bulk or low-volume disease, I talk to them about watching and waiting as an option. I also talk to them about an approach like that of the ECOG RESORT study (3.1), which is treating this type of disease with single-agent rituximab — that is then extended using either a continuous maintenance type of approach or a watch-and-wait approach (ie, after the rituximab, wait until relapse and then re-treat at that time).
The danger of that study, from a scientific perspective, is that it might cause rituximab resistance to the single agent. Then you would not obtain the mileage that you would by using it in a chemoimmunotherapy regimen, with which you get "more bang for the buck."

Track 6

DR LOVE: What are your thoughts on the use of rituximab monotherapy?

DR MALONEY: I use it. I offer rituximab to patients as a single agent. Again, usually not for patients who are completely asymptomatic, but if patients have some evidence of disease progression, then I believe that's an option. We also have a dexamethasone with rituximab study that we've developed based on some synergy observed in the lab.

DR LOVE: What is your usual preferred treatment regimen?

DR MALONEY: For the oldest patients, I'm less inclined to administer an anthracycline. I'm more inclined to administer single-agent rituximab, and if I'm going to use chemotherapy, I'm more likely to use something like the CVP regimen.
For younger patients, I'm pretty convinced that the best option currently is rituximab with CHOP, based on the results of multiple studies that suggest that the longest progression-free survival occurs with that regimen (Buske 2006; Hiddemann 2003; Pfreundschuh 2006). That's an extremely controversial area.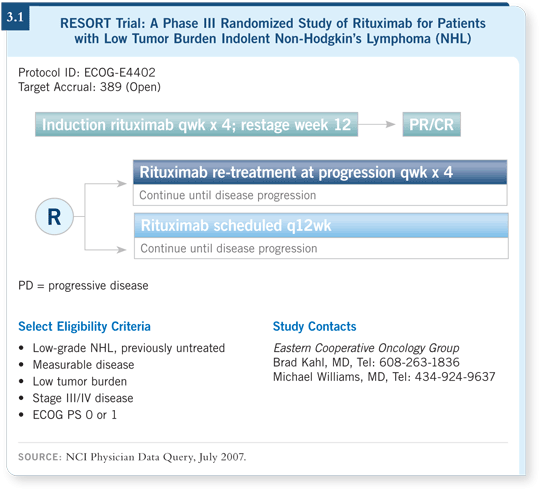 Track 7

DR LOVE: Describe the typical patient with follicular lymphoma who will receive treatment as opposed to a watch-and-wait approach.

DR MALONEY: These patients will have symptoms — night sweats, weight loss. They'll have cytopenias associated with marrow involvement or splenomegaly or adenopathy causing compression of a ureter, et cetera. Those are the patients that I'm much more inclined to treat.
My first priority is to try to put them on a study. Our current study is SWOG-S0016 (2.2). This is a randomized, Phase III study of R-CHOP administered according to the Czuczman schedule versus CHOP followed by Bexxar.
Both of those regimens are based on some Phase II experience we had in the Southwest Oncology Group, in which the response and progression-free survival at five years among patients treated with CHOP followed by Bexxar are the highest we've ever seen — progression-free survival is around 70 percent (Press 2006).
That's one arm of the Phase III study. The other arm is the CHOP and rituximab regimen, which seems to be the current best single R-chemotherapy regimen.

Track 8

DR LOVE: Would you provide an update on the issue of rituximab maintenance in indolent lymphoma?

DR MALONEY: The challenge with rituximab maintenance is essentially trying to extrapolate data from the relapse setting to the front-line setting.
One of the key studies was by van Oers (van Oers 2006), which randomly assigned patients with relapsed follicular lymphoma who had never received rituximab to CHOP versus R-CHOP with or without maintenance rituximab for two years.
In that study, a tremendous benefit was demonstrated from the addition of rituximab maintenance to either group, including the R-CHOP group, and that was the surprise of the study. So the temptation is to say, "Well, these people who relapsed were all rituximab naïve, and that can't be much different from the front-line setting."
So the question is, should we begin using R-CHOP, for example, followed by two years of maintenance as the standard approach for the front-line patients? At least on the surface, it seems like a reasonable thing to do.
I would be cautious, though, because if you examine the data carefully, you see that rituximab maintenance probably works in relapsed disease because so many events are expected in the first couple of years. In a relapse setting, the benefit of your therapy is much shorter.
For example, in the van Oers study, the median time to progression in the CHOP arm was only 20 months, and even in the R-CHOP arm it was only 33 months. That's a lot less than what you would expect to see in the setting of up-front R-CHOP, in which the time to progression is nearly five years.
If you have a lot of events occurring in the first one or two years, then it isn't unreasonable to surmise that if the maintenance therapy does something, it might contribute to improved outcome.
I'm a little skeptical about whether maintenance will be easily shown as beneficial in the front-line setting, because you will see only 10 percent of your events happening in the first couple of years.
The PRIMA study — a study that has now accrued fully in Europe — is evaluating any one of a number of induction chemotherapy regimens with rituximab followed by rituximab maintenance or observation.
I still believe rituximab maintenance may be effective, but it won't be easy to prove in that front-line setting.