You are here:
Home
:
NHLU 1 2007
: Andrew D Zelenetz, MD, PhD

Tracks 1-19
| | |
| --- | --- |
| Track 1 | Long-term results from GELA: R-CHOP versus CHOP in older patients with diffuse large B-cell lymphoma (DLBCL) |
| Track 2 | Intergroup study of maintenance rituximab following R-CHOP or CHOP in older patients with DLBCL |
| Track 3 | Clinical use of CHOP and rituximab in patients with HIV-related lymphoma |
| Track 4 | Maintenance rituximab in patients with DLBCL |
| Track 5 | Clinical trial evidence for the use of maintenance rituximab in low-grade lymphomas |
| Track 6 | Differential outcomes with maintenance rituximab in indolent and aggressive lymphomas |
| Track 7 | Maintenance rituximab in ongoing clinical trials |
| Track 8 | Continuation of rituximab beyond disease progression |
| Track 9 | Clinical trials of maintenance rituximab after initial therapy for indolent lymphoma |
| Track 10 | Practical application of maintenance rituximab in follicular lymphoma |

| | |
| --- | --- |
| Track 11 | Validation of the Follicular Lymphoma International Prognostic Index (FLIPI) among patients treated with rituximab |
| Track 12 | Survival benefit with combined modality therapy in Hodgkin's lymphoma |
| Track 13 | Biomarkers to develop risk-adapted treatment strategies for patients with DLBCL |
| Track 14 | PET scans following dose-dense R-CHOP in patients with DLBCL |
| Track 15 | RICOVER-60 trial: Six versus eight cycles of dose-dense CHOP-14 with or without rituximab in DLBCL |
| Track 16 | Tolerability of the R-CHOP-14 regimen |
| Track 17 | Tositumomab and I-131 tositumomab (Bexxar®) in combination with stem cell transplantation for relapsed DLBCL |
| Track 18 | Role of radioimmunotherapy in patients with mantle-cell lymphoma |
| Track 19 | Treatment strategies for patients with mantle-cell lymphoma |
Select Excerpts from the Interview

Tracks 1-2

DR LOVE: Can you discuss some of the important clinical trial results presented at ASCO this year?

DR ZELENETZ: ASCO included several updates of groundbreaking studies. One was a seven-year update on the GELA (Groupe d'Etude des Lymphomes de l'Adulte) study (Coiffier 2007; [1.1]), which compared CHOP to rituximab and CHOP (R-CHOP).
The eligibility criteria were age older than 60 and younger than 80 with diffuse large B-cell lymphoma (DLBCL) and lacking any significant comorbid conditions that would preclude the use of anthracycline-based chemotherapy. Patients received rituximab and CHOP in the hospital, and they were premedicated with steroids so that infusion toxicities were extremely low. It was well tolerated.
The biggest surprise is how the data have held up over time. The survival advantage continues to be maintained. There's even a slight increase in the separation between the curves over time, which is surprising in a study with patients aged 60 to 80 and with seven years' median follow-up — we would have expected people to start to die of other causes. The importance of rituximab and the clear breakthrough it adds to CHOP are confirmed.
Another presentation from Intergroup E4494/C9793 was a two-by-two randomized trial that compared R-CHOP to CHOP for patients with DLBCL and, in a second randomization, rituximab maintenance to observation. An initial four-arm analysis suggested that R-CHOP was clearly superior to CHOP but that maintenance after R-CHOP added no benefit whatsoever (Habermann 2006).
For a long time, maintenance rituximab appeared to be essentially equivalent to adding rituximab to CHOP. Patients who received CHOP initially and then received maintenance rituximab appeared to have almost the same outcome over the long term.
Vicky Morrison presented an updated analysis focused on the second randomization, and a relatively big surprise was that even though maintenance rituximab in those patients who were initially treated with CHOP clearly delayed time to progression, it did not eradicate disease (Morrison 2007). So in the final analysis, no statistically significant superiority for overall survival was evident for maintenance rituximab over observation. Based on these data, patients should receive rituximab and CHOP in combination.

Track 5

DR LOVE: What are the key data sets evaluating maintenance rituximab in the low-grade lymphomas?

DR ZELENETZ: The first data set is from the HOVON-26 trial. It was also a two-by-two randomization comparing CHOP to R-CHOP with a second randomization for maintenance rituximab versus no maintenance. That first randomization was stopped because of the superiority of the R-CHOP arm. Patients who received R-CHOP as induction showed an improvement in progression-free survival with the maintenance rituximab (van Oers 2006).
The second data set, from the German Low Grade Lymphoma Study Group (GLSG), was also a two-by-two randomized trial, comparing FCM (fludarabine, cyclophosphamide and mitoxantrone) to R-FCM. Again, the first randomization was stopped because of the clear superiority of adding rituximab to the chemotherapy (Forstpointner 2004).
The second randomization showed a highly significant improvement in progression-free survival with maintenance rituximab, even in the group of patients who received rituximab in the induction (Hiddemann 2005).
So in low-grade lymphoma, particularly in follicular lymphomas, I believe we have a different answer regarding maintenance rituximab. In that situation, maintenance can certainly delay the time to the next treatment and may in fact have an impact on overall survival. Any indolent lymphoma study requires long follow-up to reflect all the events. When you start to see survival advantages relatively early in a follicular lymphoma trial, your interest perks up. If the advantage appears early, it will probably hold up as time goes on.

Tracks 15-16

DR LOVE: Are there any newly emerging data in dose-dense therapy?

DR ZELENETZ: The RICOVER-60 trial was important from two points of view (Pfreundschuh 2006). One is that it finally put to rest the question of six versus eight cycles of CHOP. With both CHOP and R-CHOP, six cycles were as good as eight. Many of the patients with large cell lymphoma are older than age 60. Sparing them an additional 100 mg/m2 of doxorubicin is not a trivial undertaking. If it's not necessary to administer eight cycles, eight shouldn't be administered.
That was a secondary finding from the study. The GLSG had previously demonstrated that CHOP administered on a 14-day schedule compared to a 21-day schedule provided a superior outcome (Pfreundschuh 2004). In fact, the suggestion was that CHOP-14 was similar to R-CHOP-21 in the GELA results. So it raised a significant question: Does increasing the dose density overcome the need for adding rituximab to the regimen?
The RICOVER-60 trial asked that question directly. Patients older than age 60 were randomly assigned to receive CHOP-14 or R-CHOP-14. A statistically significant improvement in event-free and overall survival occurred in favor of dose-dense rituximab-based therapy.
Of course, this raises a third question: Is R-CHOP-14 better than R-CHOP-21? You can't find out by inference — you need to find out by direct comparison. Approximately 400 of the 640 patients necessary have already been accrued and randomly assigned to a GELA study that is evaluating that question of R-CHOP-14 versus R-CHOP-21 (1.2). We're hopeful that the data will accrue fast enough that we'll find out in 2008.

DR LOVE: Any predictions?

DR ZELENETZ: It's hard to know. The R-CHOP-14 data look good, but it's difficult to compare data sets, even when you normalize for prognostic factors. My feeling is that it's best to wait for the trial results. At Memorial, we chose to use R-CHOP-14 for our clinical study because of some retrospective data we generated showing that R-CHOP-14 seemed to improve outcome by approximately 10 or 15 percent.
R-CHOP-14 built on another large dose-dense trial that we had conducted called the NHL-15 (Portlock 2004). Our 01142 treatment regimen, sequential dose-dense CHOP followed by ICE (ifosfamide, carboplatin and etoposide), was designed for younger patients who are transplant eligible. For the older patient, our standard is still R-CHOP-21.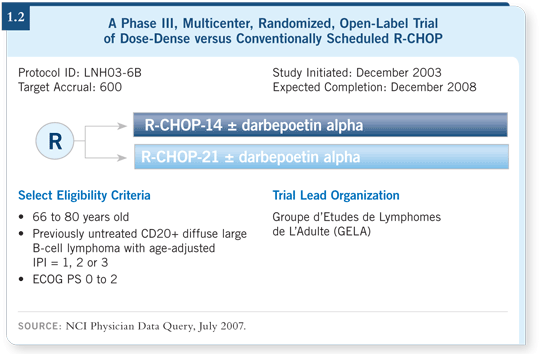 DR LOVE: When you use R-CHOP-14, how do patients respond to it?

DR ZELENETZ: It's surprising how well people tolerate it. It's easy, and a lot of people like the idea that they'll be done in 12 weeks. We virtually never have to back off to 21 days due to toxicity. We've successfully treated patients through their late sixties and up to age 70 with this dose-dense regimen.
In lymphoma, it's a more involved treatment because we're administering dose-dense prednisone and we have to remember to add prophylactic medications, so patients receive fluconazole, acyclovir, sulfamethoxazole and trimethoprim. Otherwise, we see an excess risk of shingles, fungal infection — thrush, in particular — and pneumocystic pneumonia. Ever since we observed that increasing dose density increases the infectious risk, we've been able to control that risk with prophylaxis.