You are here:
Home
:
NHLU 4 2005
: James O Armitage, MD
James O Armitage, MD
EDITED COMMENTS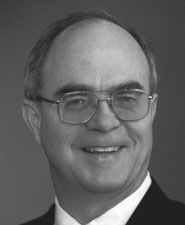 Impact of monoclonal antibodies in the treatment of NHL
Antibodies have had a much bigger impact on the treatment of patients with lymphoma than anticipated. Essentially, all the current antibodies are directed against CD20, and almost all the important groups of lymphoma express CD20.
These drugs were developed for follicular lymphoma; however, while rituximab clearly has a real effect on follicular lymphoma, as do the radioantibodies ibritumomab and tositumomab, it appears rituximab's most important impact is on diffuse large B-cell lymphoma.
Several trials, including the French trial evaluating CHOP plus rituximab, the MInT trial in Europe, the ECOG trial in the United States and the populationbased analysis from British Columbia have all shown that rituximab has a tremendous impact on the survivability and curability of diffuse large B-cell lymphoma, which is the most common lymphoma and much more aggressive than follicular lymphoma (Coiffier 2002; Pfreundschuh 2005; Habermann 2004; Sehn 2005).
I believe the data from the British Columbia study (Sehn 2005; [4.1]) is even more convincing than the three randomized trials. In Canada, a central approval exists for drugs, and on a specific day, rituximab/CHOP became the recommended treatment for diffuse large B-cell lymphoma. The researchers examined data 18 months before that date (the prerituximab era) and 18 months after that date (the postrituximab era) to determine whether rituximab impacted this disease throughout the entire province.
Indeed, a sudden drop in mortality was seen after the introduction of rituximab. Even though a few patients before that date had received rituximab and approximately 15 percent after the date of approval did not receive the drug, the mortality rate went down approximately 20 percent for diffuse large B-cell lymphoma in British Columbia. I believe that is the most important impact of unlabeled antibodies.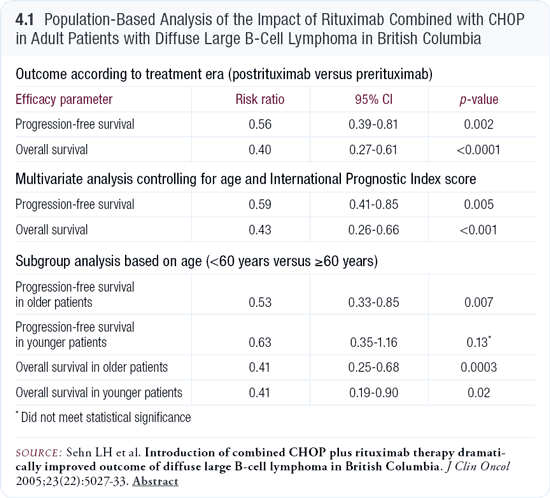 Use of radioimmunotherapy in patients with follicular lymphoma
The radiolabeled antibodies are the most active drugs in the treatment of follicular lymphoma. They have the highest response rate, and even after patients have failed chemotherapy, they respond to radioimmunotherapy at an unexpectedly high rate. These agents appear to be much better for treating follicular lymphoma than large B-cell lymphoma, probably because follicular lymphoma is so uniquely radiosensitive.
Still, we haven't learned the best way to use radioantibodies. In a study from the University of Michigan in which approximately 80 patients with follicular lymphoma were treated initially with iodine-labeled tositumomab, the response rate was extremely high — almost everyone responded, and the median duration of response was somewhere between six and seven years (Kaminski 2005). We need to seriously consider the potential of radioantibodies as initial therapy, at least for elderly patients. It's associated with almost no morbidity and essentially no mortality when used as front-line therapy.
Studies are examining how to utilize radioantibodies with chemotherapy. Two exciting findings have been reported recently. In one study, conducted by Zelenetz and colleagues at Memorial, patients with untreated mantle-cell lymphoma were treated with radioimmunotherapy followed by CHOP (Zelenetz 2003). The response rate was very high, and the outcome was shockingly good.
In the SWOG study of CHOP followed by tositumomab/iodine I-131 tositumomab (Bexxar) in patients with previously untreated follicular lymphoma, when historical comparisons were made, the results were the best they'd ever seen in the treatment of follicular lymphoma (Press 2003). Another extremely interesting study is the ongoing national trial in which CHOP/rituximab is compared to CHOP followed by Bexxar in patients with newly diagnosed follicular lymphoma (SWOG-S0016).
Clinical management of indolent lymphoma
Follicular lymphoma is the second most common lymphoma, and we have so many effective treatments that it's difficult to decide how to treat patients. Single-agent cytotoxic therapy, combinations of drugs, labeled and unlabeled antibodies, auto and allogeneic transplants and interferon have all been effective. Most physicians approach this disease as incurable, which is certainly not true. If by cure we mean the disease goes away and doesn't recur before the patient dies of something else, then we have seen patients cured after allogeneic and autologous transplants, primary chemotherapy regimens and, it now appears, after radioantibodies.
I generally don't treat very elderly, asymptomatic patients immediately, and if I do need to treat them, I utilize a therapy with minimal toxicity, like an antibody. Younger patients are usually much less excited about the fact that there's a 10-year median survival; they are interested in a very long survival, preferably free of lymphoma. In such patients, my treatment goal would be to induce a complete remission, with the idea that if they relapse, we'd do either an autologous or an allogeneic transplant.
Use of maintenance rituximab
I use rituximab up front without chemotherapy in elderly patients, patients who are ill and in those of any age who are anxious to avoid any significant morbidity. Some patients say they'd rather die than lose their hair and, in such a case, rituximab is the best choice. When we treat a patient with rituximab only as initial treatment, then rituximab maintenance quite clearly prolongs the median duration of remission, and I do recommend its use.
From the available data, I believe we now know rituximab maintenance isn't necessary in large B-cell lymphoma. Also, in follicular lymphoma, for a patient who receives a regimen like CHOP/rituximab or FND/rituximab as initial therapy, I don't believe it's clear that there's an advantage to rituximab maintenance. In a study presented at ASH in 2004, patients with relapsed follicular lymphoma who had received such regimens and then received maintenance rituximab remained in remission longer (Van Oers 2004). However, I don't know of any convincing data indicating that that's true with the initial therapy.
Three different schedules of maintenance rituximab have been studied — re-induction (four treatments) every six months, the Swiss regimen of one dose every other month and the ECOG trial in which rituximab is given every three months. In the clinical setting, when using rituximab for maintenance, I give it every other month for a year.
Hyper-CVAD plus rituximab in the treatment of mantle-cell lymphoma
Mantle-cell lymphoma is a disease we've known about for only a little over a decade. For the first six or seven years, it was considered the worst disease to have. It responded least well to our treatments then; however, the hyper- CVAD regimen combined with rituximab developed at MD Anderson has truly changed that. For the first time, patients regularly achieve complete remission. We then transplant them in first remission, and they've done extremely well.
I tell my patients that rituximab with hyper-CVAD and a transplant in remission is the most active treatment we've ever used. The great majority of patients — more than 75 percent of the ones we've treated — have experienced a complete remission. We don't know whether they will eventually relapse, but they have not relapsed yet, and we're out several years. It's a difficult regimen, and not every patient can tolerate it. I'm very hesitant to recommend it to patients in their late sixties and certainly patients in their seventies. I've had some difficult experiences, although no mortalities, in older patients.
Dr Armitage is the Joe Shapiro Professor of Medicine in the Section of Oncology/Hematology at the University of Nebraska Medical Center in Omaha, Nebraska.